With so many amazing Asheville restaurants to choose from here in foodtopia, it's often panic-attack inducing to decide where to dine. Often we find that the best option is to go for the "triple threat" restaurants; the ones who offer not just great food, but fantastic drinks and enjoyable atmosphere. Since it's opening in 2011, Storm Rhum Bar and Bistro has been doing just that; delighting diners with a tantalizing rum selection, fresh, seasonal fare, and an eclectic abiance to enjoy it all in.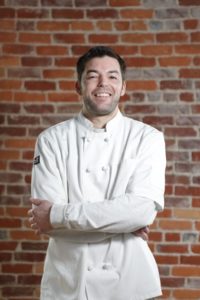 Storm's menu is created by Chef Owen McGlenn, who came to Asheville with no shortage of culinary experience. After earning a degree in culinary arts at Johnson & Wales University, he went on to assume the position of Sous Chef at the award-winning High Cotton on the Peninsula. He was then selected to open High Cotton's Greenville, South Carolina location, and from there, was hand-picked to become Executive Chef of Storm Rhum Bar & Bistro. McGlenn's idea for Storm's menu is simple; he wants the food to be approachable yet well crafted with high quality ingredients. The menu features dishes such as charred octopus dressed with fennel and a champagne vinaigrette, alongside a roasted duck breast served with pickled blueberries and creamed corn.  Starting at 11pm Storm switches over to their late night menu, with options such as bacon boiled peanuts and confit pork sandwich catering to late night cravings without skimping on creativity.
Storm is also one of few restaurants in Asheville that offer house-made charcuterie, using McGlenn's preferred method of "nose to tail", in which he utilizes the entire animal, making sure very little goes to waste.
Of course, Rum being in the name of the restaurant, (Ahem… sorry.. "Rhum", which is the French spelling) the selection of rum is nothing short of heavenly. Affecianodas
of the sugar cane based liquor can get tastings of many varieties including Flor de Cana, Ron Montasalem, and even a 21 Year El Dorado. The creative rum cocktails are worth noting as well. Especially the El Diablo, which is a mouth-watering blend of passion fruit puree, lime juice, cayenne-infused honey, and light and dark rums.
And While you are sipping on your El diablo and enjoying your house cured charcuterie, gazing at the captivating scene around the restaurant provides for endless entertainment. 
The old picture frames lining the walls, The worn wooden tables, and dim lighting casted off by Edison bulbs provide a cozy yet sophisticated atmosphere. McGlynn likens the restaurant to "a well-traveled man, and these are things he's eaten and collected along the way." 
To enjoy this triple threat establishment yourself, stop by their location in the South Slope at 125 South Lexington Ave. Storm Rhum bar opens daily at 4pm and dinner service starts at 5:00. The traditional menu is served until 10pm Sunday-Wednesday and 11pm Thursday- Saturday. However a late night menu is offered until 1am every day!
You can also check out Storm on our South Slope Food Tours every Friday and Saturday!!