Paste magazine shows some more love to the Land of the Sky, this time with a feature on drinks at Asheville bars MG Road and Sovereign Remedies and Wicked Weed's cocktail inspired Coolcumber Golden Ale.
We recommend visiting these Asheville bars immediately to try the drinks featured here:
Photo by Robert Gunn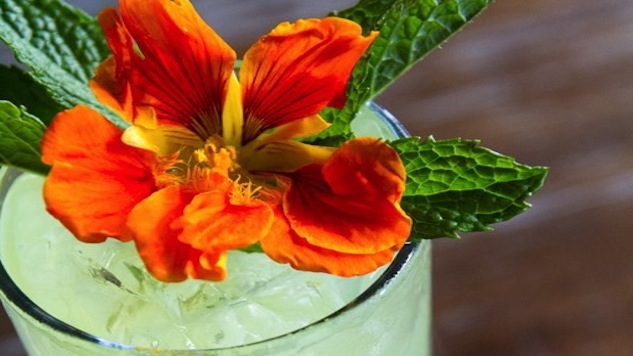 Thirsty? You're in luck. In Paste's drinking-and-traveling series, City in a Glass, we mix up a city's signature swills and slide them down the bar to readers. Grab a stool. This round, in Asheville, North Carolina, is on us.
We're not going to fight it: Asheville, North Carolina, is a beer city. Located in Appalachia, this 45-square-mile mountain town has dozens of thriving breweries—the most per capita in the country. And with the kinds of views of the Great Smoky Mountains that inspire people to quit their day jobs and become singer-songwriter-urban-homesteaders, we get it. Why would anyone want to spend time drinking in a dark cocktail bar?
Well, a few reasons. The creative energy that fueled Asheville's beer boom and subsequent culinary boom has officially spilled over into the cocktail glass. And the city's new crop of cocktail bars aren't dark and stuffy affairs; they're window- and light-filled hangouts that serve produce-packed cocktails alongside familiar local beers and gourmet eats.
Erin Hawley, bar manager of the cocktail bar MG Road, says five years ago there wasn't anything going on cocktail-wise in the city. "And then a few bars opened and it started the momentum with the cocktail scene," she says. Cocktail bars popped up all over the place in the densely packed downtown and now any restaurant that opens is expected to have an awesome cocktail program too. "The growth isn't slowing down, but we're still a tight nit community. We have relationships with all the local breweries and keep local beers on tap. We're pretty interconnected."
Charlie Hodge, owner of Sovereign Remedies bar, says there's a new wave of people coming to the city excited about its dynamic dining and drinking options. "At the end of the day, people just want a solid drink and nice people to make it for them," he says. "That's a trend that I hope stays around for as long as I'm in the business." On this city drinks tour, we're going to introduce you to three solid Asheville drinks, show you where some nice people will make them for you and even how to replicate one of them at home.

1. Boa Constrictor
Where to order: MG Road
As Asheville's culinary offerings have become more diverse (there's more to eat than biscuits now!), so have the flavor combinations you can find in a glass. MG Road, whose sister restaurant is the Indian street food shop Chai Pani, often takes an international approach to its cocktails. "Chai Pani has a pretty awesome spice closet," says MG Road bar manager Erin Hawley. "We get a lot of inspiration for our menu from that, but we're constantly evolving. We've hosted several pop-up concepts where chefs take over the MG Road kitchen. And then we revamp the bar to fit that theme."
To design a seasonal drink, the bartenders first tap their local produce purveyor. "We really try to be inspired by what we can get," Hawley says. "We spend a whole day playing around with an ingredient and tweaking it until we have something we're excited about." For the spring menu, the team got excited about snap peas and worked them into an herbal and crisp cocktail. The Boa Constrictor—named for the snake that terrorizes rainforests in the Americas—includes a couple of smashed pea pods, mellow gin, tart lemon juice and subtle mint syrup. It's topped with a locally made dry, hard cider and garnished with an edible flower.
Boa Constrictor
1½ oz. Tanqueray No. Ten gin
¾ oz. lemon juice
¾ oz. mint syrup (recipe below)
2 pods of snap peas
Noble The Standard Bearer hard cider
Mint sprig, for garnish
Edible flower, for garnish
Make mint syrup: Combine 1 cup water and 1 cup sugar in a saucepan. Heat slowly, stirring until sugar dissolves. Remove from heat and steep a large bunch of fresh mint in the syrup until it completely cools. Strain.
Make drink: Add the snap pea pods and lemon juice to a cocktail shaker. Muddle. Add the gin, mint syrup and ice. Shake. Strain into a Collins glass. Top off with Noble cider. Garnish with a sprig of mint and an edible flower.

2. Coolcumber
Where to order: Wicked Weed Brewing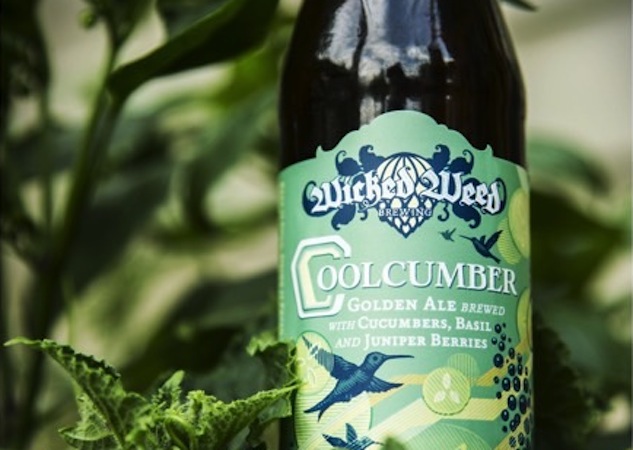 Photo by Elizabeth Bates
The wine world places a huge value on terroir—the unique characteristics wine gets from the soil and climate grapes grow in. But in the beer world, brewers want uniformity; they don't want the hops and barley in one bottle to taste different than those in the next. Today, however, craft brewers like Wicked Weed are going the wine direction, using flavorful local ingredients to create a sense of place. "Appalachian terroir is something that we're working to convey," says Wicked Weed Brewing founder Luke Dickinson.
Wicked Weed is ahead of the curve on this, as they are on pushing funky beer styles such as barrel-aged sours. And when coming up with new flavors, the team often draws ideas from an unusual source: cocktails. Its seasonal Coolcumber American ale is based on a gin-basil coulis (gin, basil and cucumbers). "We took a golden ale and brewed it with cucumber, basil and juniper berries," Dickinson says. "In terms of flavor, much like the rest of our adjunct-heavy beers, we try to use as deft of a hand as we can. It's a great, sessionable beer that is exactly what we reach for around the heat of the summers in the South."
You can order a pint on nitro tap at the brewery's house pub (it comes garnished with a cucumber wheel) or you can buy it by bottle, which was released earlier this week.

3. Pre-Hangover Tonic
Where to order: Sovereign Remedies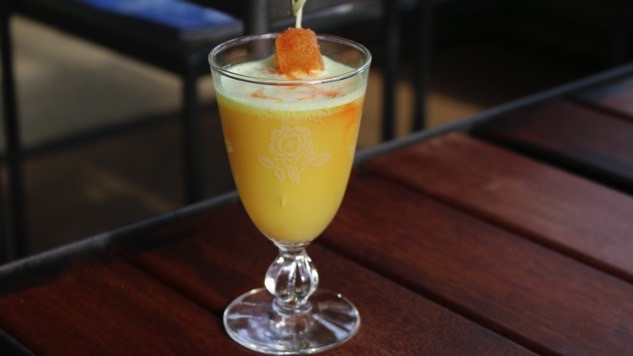 Photo by Charlie Hodge
If you're a regular drinker, you probably have your own trademarked hangover cure. Pedialyte and Advil? Orange juice and Tiger Balm? Well at Southern Remedies cocktail bar, you can order a Pre-Hangover Tonic that will hopefully prevent one of those nasty symptoms from ever setting in. The exact recipe for this drink is a secret, developed years ago by a staff member who is now in training to become a Chinese medicine practitioner. But the ingredients list reads like a CVS shelf: milk thistle, turmeric, alfalfa, evening primrose, prickly pear, shatavari (a type of asparagus) and coconut water. The bright yellow tonic is nonalcoholic, but you can spike it with aged rum for a little pre-hair of the dog.
"The drink employs plants that have historically been known to help hangovers," says Sovereign Remedies owner Charlie Hodge. "Milk thistle aids and protects the liver, alfalfa cuts the acidity of the alcohol, prickly pear protects the liver and shatavari relieves inflammation of the digestive system. The taste is slightly oily and of dried leaf." That's a little more medicinal-sounding than the bar would like, so they brighten it up with some ginger, coconut water and bitters. Just what the Ayurvedic doctor ordered.

City in a Glass columnist Alyson Sheppard writes about travel and bars for Paste and Playboy. She currently resides in the great state of Texas.